Guilty Pleasures even Kathy Lee Gifford can't do without!!
Many of us I know in the morning wake up to watch Hoda and Kathy Lee with coffee in one hand and our children pulling at the other. That is if we are not working and or have a nanny whcih the majority are working. For those that are at home though you might have seen the episode about each of their little guilty pleasures that they could not live without. If you have not seen it I am going to tell you about Kathy Lee's little item that she said she could not live without and I am also going to go into depth on what I have learned about it and the woman behind this fabulous have to have item. It is a lip stick and it is by Janet Spartin in New York, of course. I called New York at the Janet Spartin facial boutique/spa what have you and I ordered the lip stick in the color Kathy Lee can't live without and it is called Neo Nude. I explained to the very nice lady that helped me that I was a makeup artist and had never used her line. She suggested some other products too and sent me samples to try. After trying these samples I can soooooo understand why Kathy Lee LOVES this line and these products. So, lets start with the Lip Stick bbut before I go there, I recieved a sample of a product called the lip plumper. The tech explained to me that I should apply the plumper to my lips before my lipstick and this is like a product most other cosmetic companies make to keep the lipstick from bleeding but this one of course is special:
LIP PLUMPER AND SMOOTHER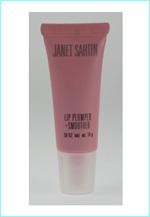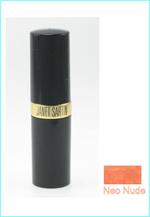 Long wearing, moisture drenched with Vitamin C. Kathie Lee's favorite lipstick is now back in stock. This lipstick I have to say is a great lipstick. It is 24.00 and it does what it says, long wearing and the color is so fab you could wear it with anything. It is creamy and it feels so good and soft on your lips. It makes your lips feel like you have smoothed on a really expensive butter. Funny I know as I have described but one that stays. If you require a little of a shine that looks like a great gloss the next product can be used just
alone or over any lipstick. I used it over the Neo Nude also and it looked great. I then the next day just applied a tinted moisturizer and it went great togather so the next surprise is:
LIP SARTINIZER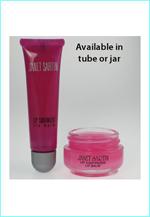 Clinically proven. In our study Lip Sartinizer elicited immediate and long-term improvements in chapped lips. 100% of the participants said their lips were softer & more comfortable after using Janet Sartin Lip Sartinzer Lip Balm. Available in tube or jar and is 26.00. I love the feel of this Balm. I do not even want to call it a Balm because it is the best feeling in the world. It is not sticky but not oily, just a great gloss/balm that not only can gloss up your lipstick but also protects your lips and helps them to become softer and when dryness is taken away we have less wrinkles so it in my opinion should be in every womans purse. I have one and I know from now on I will be purchasing from Janet for a long time. The next item that I have tried on myself and I love and love more than any other product l have ever bought like this product. Being a makeup artist and to all of you makeup artist out there I know you have used a product like I am about to show you. a matter a fact you probably have many and to all you that are not makeup artist you need this one. So without further waiting:
INSTANT SKIN SMOOTHER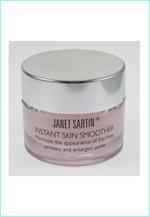 Invisible skin base smoothes surface skin. Minimizes the appearance of fine lines, wrinkles and enlarged pores. Fills in and smoothes away lines with micron powder and light diffusing technology. NO JOKE!!! I LOVE THIS PRODUCT AND EVERYONE OF YOUR CLIENTS OR YOURSELF WILL LOVE THIS!! I used it and it absolutely looked as if my skin had been air brushed. It was so smooth and I fell in love with it. This product is 48.00 and that is so reasonable for a brand like this. You have to try it. This product is so good you will definatly love it as well as I do. I would never recommend a product at all if I had any problem with it myself or on any other client. I am just showing this line on my blog because I just discovered it myself and I have litterally fell in love with it and will become an avid user. The last product that I will show you that I have tried as of now and I plan on trying more is the loose powder and here it is:
LOOSE POWDER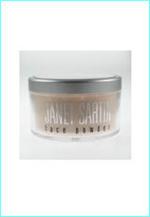 Fragrance free, ultra-sheer powder sets makeup for hours of beautiful wear. Looks natural in every light in a luxurious range of subtle, natural shades. THE LOOSE POWDER IS 37.00. I was a La Mer powder user for years and still say they have fine powder that really is one of the best. After I used Janet Sartin powder I was shocked at the fine, fine, powder that I had gotten. I live in Houston and it is really humid and usually with the La Mer powder I have to atleast apply again and again atleast three times. This weekend I went downtown and walked all through the anual International festival in the hot sun and heat. I never once had to blot my skin and my makeup looked just as nice as it did early that morning when I applied it. So, with that said, Janet Sartin you have 6 stars from me and I have used many products. My only wish is that I had found you sooner. Better late than never and I hope that the readers here will go to your website and buy these products and more. Good luck all you great bloggers and check it our. Remember to Join my group here and send me an email on your favorite product or guilty pleasure that you cannot live without and I will write about it here, but if your product becomes a favorite of mine you will win a huge goody bag of cosmetics. Pics are coming soon. The makeup bag alone it simply divine. Get to emailing and I will get to trying. If your favorite cosmetic happens to be one of my favs already/no worries because you will win a goody bag too. Thanks for joining me tonight and I hope you enjoyed it/ Chat more tomorrow! It is a big surprise... XXXOOOO TinaLeAnnn Bice
Formulated with hyaluronic filling spheres. Lip enhancing spherical humectants plump lips to create fuller sexier lips. Visibly fills lines, boosts volume and keeps lips moist. Increases your pout look over time, while also smoothing out fine lines and wrinkles to make your lips look fantastic. The Lip Plumper Smoother is only 38.00 and is a great product and I saw the benefits right away. My lips looked smooth, my lipstick went on really well, and it stayed on a lot longer. They did not dry out and I found that I was not having to re-apply my lipstick like I normally would.