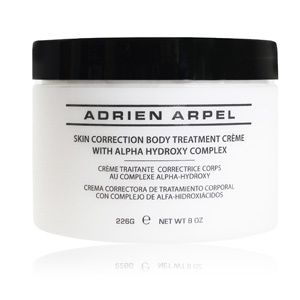 Hello Everyone!! I now have the password worked out here and we are back in buisness!! Have you ever had a special cosmetic product that you just cannot and will not live without? I know I have and I call them my guilty pleasures. I have honestly been at the bottem of my favorite serum bottle with a q-tip; scraping and digging for the last drop. All the while knowing that the next morning I am going to make a run for Sephora and or Saks!! Lets get started.
At the top you will see my first guilty pleasure. It is number 1 on my list and I have been useing this product for many years. It is Adrien Arpel Skin Correction Body Treatment Creme. This body creme is so great.. I just love Adrien Arpel.. She uses a lot of fruit enzymes and natural oils in her products. Her spas are well know around the world and this creme is a dream creme. It has Alpha Hydroxy Acids that correct ageing skin. It is the perfect creme for any age skin. No Mineral oil!! It has soothing Aloe, Chamomile, jojoba oil,collagen(vegetable),apple extract, and your good AHA's. It absorbs rapidly and is not greasy. It leaves your skin silky smooth and the fragrance is addictive. It smells so clean and fresh you dont even need perfume after useing this creme. Winter is coming and this creme gets an A+ from me. It is around 38.00. You can order this creme by going to www.AdrienArpel.com.
My Number 2 Guilty Pleasure is C.O Bigelow's Tinted Lip Balm in Lemon Ginger. This lip balm is the perfect nude lip color. It is in a balm but has the sweetest lemon flavor. I love this with a nude lip liner and the rich feel of this is wonderful. It softens your lips and contains lemon peel oil, lemon peel extract, ginger root oil, ginger extract, shea butter, jojoba oil, sunflower seed oil, grape seed oil, and bees wax. This balm is full of antioxidents, great color and a fantastic moisturizer for your lips. Plus it is a great price. Right now it comes in three colors and is 7.95 each or buy 2 get one free. Bath and body Works has it on special and it is my favorite daily balm. Go to www.bathandbodyworks.com and you will be hooked too!!
My number 3 is C.O. Bigelow's Mentha Lip Shine... This is just a great lip gloss with a kick of mouth wash. Yes.. Mouth Wash!! Put on some of this and your breath is instantly fresh. It is a kissing fresh gloss and your man is sure to like!! This gloss gives a great shine and is not sticky at all. Glides on and makes your lips shine like glass. I have tried lip glosses with a mint taste and many have an after taste that I don't like at all.. But this one really tastes like a bit of Scope.. One would think it has Scope in the gloss. Try it & you will like it.. It is also buy two get one free at www.bathandbodyworks.com !!
My number 4 is WEN Hair Care by Chaz Dean!! This product is awesome!! That is an under statement. I was a bit skepticle at first but being a Cosmetologist and having worked with my own hair that is naturally curly and hard to deal with; I gave it a try. My hair has not been curly in years. I have been straightening it with an iron and I just thought over the years it was just loosing some of that bounce and curl. I used this product one time and I saw a huge difference in my hair. It does take a little more time to use and is something you would want to do in the shower at nbight. First you apply the cleansing conditioner and let me tell you; it is a cleansing CONDITIONER.. It does not foam up a lot at all.. I was a bit confused.. You message this into your scalp using 10 or more pumps per section of hair. Comb it through with the special comb providede and let it sit for 5 minutes and rinse with cool water. The second step is the thick conditioning Almond Balm... Apply this and leave for 45 minutes... This product comes with complete step by step instructions... After this rinse again with cool water, apply the styling creme and style... I used a diffuser and my hair was bouncy and it shined just like he said it would... I have watched a lot of infomercials and I have to say; this is the first one that actually did everything it claimed it would do.. I LOVE IT!! I am sold.. Please try this product... You will love it too... It is 29.00 for the kit.. It comes with the Comb, Cleansing Conditioner, Almond Conditioning balm, Frizz balm and Styling Creme.. www.wenhaircare.com
Number 5 is a product that you also get from an infomercial.. I am in ahhh over these infomercials being so great.. This one I cannot make a picture of because of copywright laws but I can write about it and you can visit the site and try it for yourself. It is a microdermabrasia machine that you use at home. It has 5 settings and a vaccume that has real diamond abrasions.. I ordered this at www.trynubrilliance.com It came and was a white round kit with a vaccume just as stated. I was thinking it would be a battery operated machine that was a joke. I was wrong... It also came with the skin care to use with the microdermabrasia... I was not that found of that but it was free so i tried it again and i still did not likie it.. It was really nothing special and it contained mineral oil and I do not put mineral oil on my skin at all.. The machine on the other hand was wonderful and will save you a lot of money. It comes with an instructional video.. So, you will know what to do.. You start out on the lowest speed and work up.. It has filters that come with it that trap the dead serface cells that it pulls off and I saw a big difference in my skin after a week... There are a few stars on the infomercial and it is only 14.99 for the first month and then after it is 39.99 for four months. Well worth the money if you go to the dermatologist and get this procedure every week. I love mine and I use it three times a week and my skin looks great!!
This is the end of my guilty pleasures for today.. i will be back tomorrow with my fall and winter must haves.. I am talking to all you cosmeticistas and fashionistas!! Have as wonderful night and don't forget to tell me your fav's!!